Want to play? Get in touch!

If you would like to join our league next season, sign up or contact us to find out more information.
Email
New Players for Open Section Contact:
openplayerops@afcsl.org

New Players for Women's Section Contact:
womensplayerops@afcsl.org 
Our Leagues Enjoy:
10 Weeks of Spring Season and/or 5 weeks of Fall Season 
Happy Hours and Events
Great Facilities for League Games
Peer-Managed and Coached, ASA Umpires and Administrators
Post-Game Festivities
Connect with us:
Tweets by AFCSL
Why Join America's Finest City Softball League?

Thank you for visiting the website for America's Finest City Softball League (AFCSL), San Diego's softball league by and for the LGBT Community! Founded in 1981, we are San Diego's oldest softball league. With nearly 40 teams and over 600 players, managers, and coaches, we are also San Diego's largest softball league as well as San Diego's largest gay sporting league. Whether you were born with a ball in your hand, or are just learning how to throw, we have a home for you!

While we boast some of the most successful gay softball teams in the world (Four Top-5 Gay Softball World Series teams in the last three years), the AFCSL also is very welcoming to new players just trying the sport out.

To register, click on the Register Here button to the right and start your softball journey today!!!
Join us for Mush Ball on March 4th!

10AM @ Mira Mesa Rec Center
Just show up and we'll put you on a team
Bigger, softball ball (16"), no gloves, lots of fun, and free!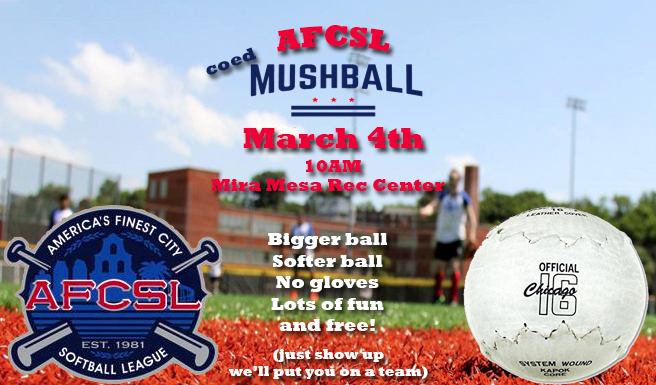 New player skills clinic dates are set:
All new players or players who have not played in the past 2 years need to attend a player skills clinic. 
These no pressure clinics help us place you on a team that best matches your skill level.
Both the women's and open sections will have clinics at 10AM 
January 21st (Mira Mesa Rec Center)
February 4th (Hourglass Park)
February 18th (Hourglass Park)
February 25th (Mira Mesa Rec Center)

Click on Locations in the menu for directions to each field.

Save the dates for spring season:
March 11th - Opening day!
March 18th
March 25th
April 8th
April 22nd
May 6th
May 20th
June 3rd
June 17th

June 24th (if needed)